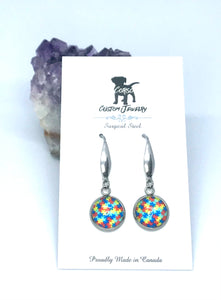 Stand out with these beautiful puzzle piece drop earrings! They have surgical steel hooks, making them an excellent choice for sensitive ears. They are also very light weight.
Specifications:
- Material: 12mm Picture Cabochon and 316L Surgical Steel
- Size: 12mm Picture (14mm Setting)
- Strong and durable
- It's not recommended to wear picture earrings in water as it may affect the picture.
- Will never rust, tarnish, corrode, or stain
- Hypoallergenic
- Nickel free
- No maintenance
Visit the Autism Awareness Collection to see similar jewelry.
Visit the 12mm Drop Earring Collection to see more drop earrings this size or the 12mm Stud Collection to see more studs this size.