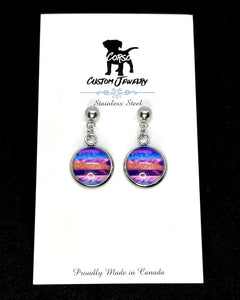 These gorgeous studs are inspired by bright, colorful Easter eggs! If you love the look of drop earrings but prefer the security of a stud earring, then these are the perfect earrings for you! 
Specifications:
- Material: Glass and 304 Stainless Steel
- Size: 12mm Cabochon (14mm Setting)
- Strong and durable
- Hypoallergenic
- Nickel free
- No maintenance
Visit the 12mm Drop Earring Collection to see more drop earrings this size or the 12mm Stud Collection to see more studs this size. Visit the Easter Collection for similar themed jewelry.