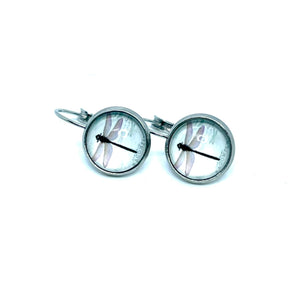 These beautiful dragonfly drops are a great choice if you love the 12mm earring size and want the security of the leverback style of drop earring.  
Specifications:
- Material: Glass Cabochon and 304 Stainless Steel
- Size: 12mm Cabochon (14mm Setting)
- Strong and durable
- Waterproof
- Will never rust, tarnish, corrode, or stain
- Hypoallergenic
- Nickel free
- No maintenance
Visit the 12mm Drop Earring Collection to see more drop earrings this size or the 12mm Stud Collection to see studs this size. Visit the Spring Collection for similar themed jewelry.