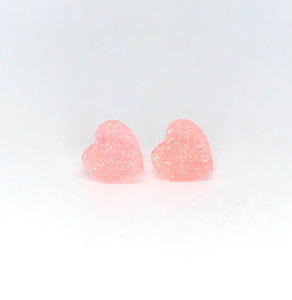 These sparkly geode heart studs are available in stainless steel, acrylic (non-metal setting), or sterling silver. 
Specifications:
- Material: Resin & 304 Stainless Steel, Acrylic (Non-Metal Setting), or Sterling Silver
- Size: 12mm Hearts
- Strong and durable
- Waterproof
- Won't rust, tarnish, corrode, or stain
- Hypoallergenic
- Nickel free
- No maintenance
Visit the 12mm Stud Collection to see more earrings this size or the Valentine's Day Gift Collection for more love-themed jewelry. 
Visit the Acrylic (Non-Metal) Earring Collection to see more earrings for extremely sensitive.
For sizing, take a look at the Sizing Chart for Stud Earrings.