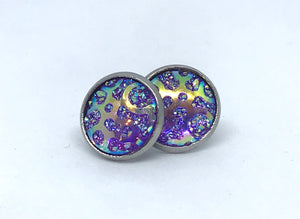 The swirls on these beautiful 12mm whirlpool druzy studs change colors differently than the druzy areas, creating a breathtaking earring.
Specifications:
- Material: Resin & 304 Stainless Steel
- Size: 12mm Druzy (14mm Setting)
- Strong and durable
- Waterproof
- Will never rust, tarnish, corrode, or stain
- Hypoallergenic
- Nickel free
- No maintenance

Visit the 12mm Stud collection to see more earrings this size.
View the Sizing Chart for Stud Earrings.