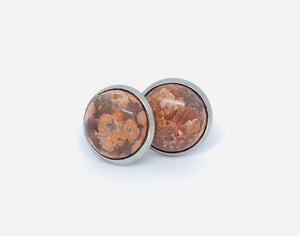 These stunning 12mm stone studs are timeless! Red jasper has a fiery, powerful energy that heals and stabilizes emotions while grounding you and strengthening your connection to the earth. 
With natural stone, there will be some variance in color and pattern between each pair of earrings. 
Specifications:
- Material: Natural Red Jasper Stone & 304 Stainless Steel
- Size: 12mm Stone Cabochon (14mm Setting)
- Strong and durable
- Waterproof
- Will never rust, tarnish, corrode, or stain
- Hypoallergenic
- Nickel free
- No maintenance

Visit the Natural Stone Stud Collection to see more stone earrings.
Visit the 12mm Stud Collection to see more earrings this size.
For sizing, take a look at the Sizing Chart for Stud Earrings.