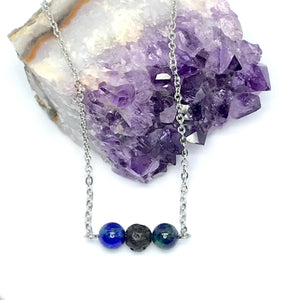 This minimalist necklace has three 6mm stone beads: two azurite & malachite beads and a black lava bead. Azurite (sky) and malachite (earth) are two distinct and well-known gemstones that are commonly found together. Historically, the azurite-malachite combination honored Isis, the Egyptian Goddess of Life and daughter of earth and sky. The combination of these stones together is particularly effective in healing. 
This necklace has natural stone beads so the colors may vary slightly from stone to stone, making each necklace utterly unique. 
Specifications:
Chain Length: 18", 19.5", or 26"

Chain Material: 304 Stainless Steel
Bead Size: 6mm
Bead Types: Azurite & Malachite and Lava Bead
Strong and durable
It will never rust, tarnish, corrode, or stain.
Waterproof
Hypoallergenic
Nickel free
No maintenance
Visit the Diffuser Jewelry Collection to see similar necklaces.