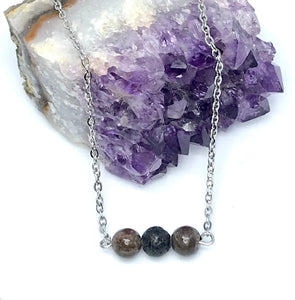 This minimalist necklace has three 6mm stone beads: two brown snowflake obsidian beads and a black lava bead. Brown snowflake obsidian is actually cooled lava, a protective earthy stone that provides a strong sense of security and stability. It has a gentle energy, light and airy like a snowflake, as it promotes perseverance and determination.
This necklace has natural stone beads so the colors may vary slightly from stone to stone, making each necklace utterly unique.
Specifications:
Chain Length: 18", 19.5", or 26"

Chain Material: 304 Stainless Steel
Bead Size: 6mm
Bead Types: Brown Snowflake Obsidian and Lava Beads
Strong and durable
It will never rust, tarnish, corrode, or stain.
Waterproof
Hypoallergenic
Nickel free
No maintenance
Visit the Diffuser Jewelry Collection to see similar necklaces.