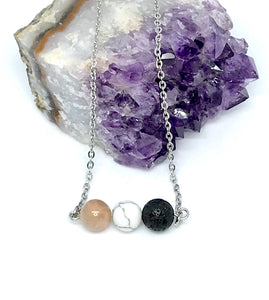 This minimalist necklace has three 8mm stone beads: sunstone, howlite, and a lava bead. The sunstone reflects the qualities of light and invites you to be open, warm, and kind. The howlite provides a sense of calmness, dispelling anxiety and stress. 
This necklace has natural stone beads so the colors may vary slightly from stone to stone, making each necklace utterly unique. 
Specifications:
Chain Length: 18", 19.5", or 26"

Chain: Material: 304 Stainless Steel
Bead Size: 8mm
Bead Types: Sunstone, Howlite, and Lava Beads
Strong and durable
It will never rust, tarnish, corrode, or stain.
Waterproof
Hypoallergenic
Nickel free
No maintenance
Visit the Diffuser Jewelry Collection to see similar necklaces.