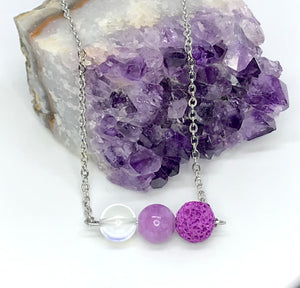 This minimalist necklace has three 8mm stone beads: mystic aura quartz, lilac jade, and lava beads. The combination of lilac jade and mystic aura quartz promotes the ability to take spontaneous joy in the little things in life. Be impulsive and enjoy life to the fullest!
This necklace has natural stone beads so the colors may vary slightly from stone to stone, making each necklace utterly unique. 
Specifications:
Chain Length: 18", 19.5", or 26"

Chain Material: 304 Stainless Steel
Bead Size: 8mm
Bead Types: Mystic Aura Quartz, Lilac Jade, and Lava Beads
Strong and durable
It will never rust, tarnish, corrode, or stain.
Waterproof
Hypoallergenic
Nickel free
No maintenance
Visit the Diffuser Jewelry Collection to see similar necklaces.