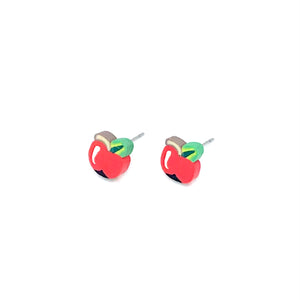 These adorable apple studs are perfect for teachers and have a variety of settings available so that you don't have to worry about sensitive ears!
Specifications:
- Material: Clay Apples & 304 Stainless Steel, 316 Surgical Steel, Sterling Silver, or Acrylic (Non-Metal)
- Size of the Apple: approximately 9mm x 10mm
- Hypoallergenic
- Nickel free
Visit the Teacher and Coach Collection for more teacher-themed jewelry or the Acrylic (Non-Metal) Earring Collection to see more earrings for extremely sensitive.
For sizing, take a look at the Sizing Chart for Stud Earrings.