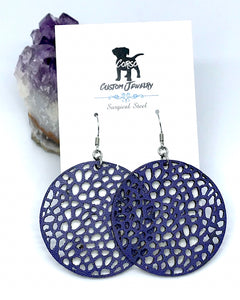 These beautiful leather drop earrings are light weight. Imagine these paired with your favourite blue jeans to dress up a casual outfit! 
Specifications:

- Hook Material: 316 Surgical Steel, Acrylic (Non-Metal), or Sterling Silver
- Hook Gauge: 21 Gauge
- Earring Material: Vegan Leather
- Size (including 15mm hook): 57mm x 42mm
- Leather Drop Size: 42mm Diameter
- Hypoallergenic
- Vegan leather should not be worn in water. 
Click here to view all statement drop earrings.