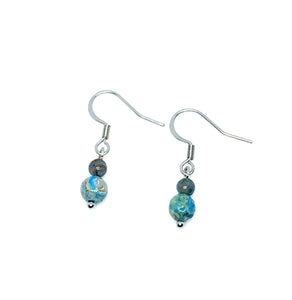 These elegant blue calsilica drop earrings are super light weight and add a classy minimalist touch to your collection.
Specifications:

- Hook Material: 316 Surgical Steel, Sterling Silver, or Acrylic (non-metal) hooks
- Hook Gauge: 21 Gauge
- Earring Material: Gemstones and 304 Stainless Steel Wire
- Full Earring Size (including 15mm hook): 27mm x 6mm
- Gemstone Drop Size (excluding the hook): 12mm x 6mm
- Hypoallergenic
- Strong and durable
- Waterproof
- Won't rust, tarnish, corrode, or stain 
- Nickel and lead free
- No maintenance
Visit the Acrylic (Non-Metal) Earring Collection to see more earrings for extremely sensitive or the Minimalist Collection for similar drop earrings.
Visit the Statement Drop Earring Collection to view bigger drop earrings.