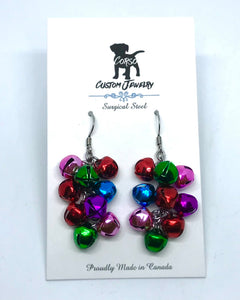 These cute jingle bell drops are inspired by a family Christmas tree covered in sentimental ornaments of all colors!
Specifications:

- Hook Material: Silver 316 Surgical Steel, Sterling Silver or Acrylic (Non-Metal Hook)
- Hook Gauge: 21 Gauge
- Earring Material: Stainless Steel & Zinc-Based Alloy
- Full Earring Size (including 15mm hook): 45mm x 20mm
- Earring Size (excluding the hook): approximately 30mm x 20mm

- Hypoallergenic

Visit the Winter Collection to see similar jewelry.

Click here to view all statement drop earrings.
Visit the Acrylic (Non-Metal) Earring Collection to see more earrings for extremely sensitive.