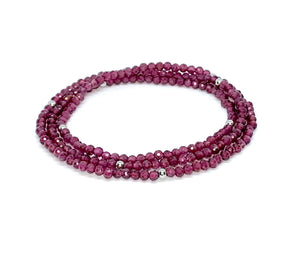 Invoke this fiery gemstone's power of healing and purification with this gorgeous shimmering garnet gemstone wrap features stainless steel accents. Garnet is known for increasing circulation, breaking apart stagnant energies, and detoxing negative emotions. This wrap can be worn as either a necklace, a double wrap anklet, or a triple wrap bracelet.
This bracelet has natural stone beads so the colors may vary slightly from stone to stone, making each bracelet utterly unique. 
Specifications:
Material: 3mm Garnet Beads & 3mm Stainless Steel
Wrap Length:X-Small (6" when triple wrapped), Small (6.5" when triple wrapped), Medium (7" when triple wrapped), Large (7.5" when triple wrapped), & X-Large (8" when triple wrapped)
Bead Size: 3mm
Hypoallergenic
Will never rust, tarnish, or discolor your skin
Nickel free
Sizing:
To calculate your ideal bracelet size, measure your wrist with a measuring tape. Add a 1/2 inch to 3/4 inch for a snug fit; 1 inch for a comfort fit; or 1.25 inch for a loose fit. If you don't have a measuring tape, find something you can wrap around your wrist (ie: string or ribbon) and then measure the material with a ruler. 
Care Instructions: 
To avoid stretching the elastic, roll bracelets on and off your wrist. This will preserve the life of your bracelet. 
Visit the Gemstone Bracelet Collection for more stone bracelets or the Gemstone Wrap Collection for other gemstone wraps. 
If you'd like to add a charm, send me a custom order request and I'll respond within 24-48 hours.