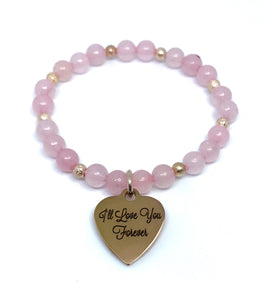 This beautiful bracelet is for the special women in your life! It's made with 6mm rose quartz beads, rose gold sparkledust beads, and a rose gold stainless steel charm.
Specifications:
Material: 304 Stainless Steel (Charm), 4mm Rose Gold Sparkledust Beads, and 6mm Rose Quartz Beads
Bracelet Length: X-Small (6"), Small (6.5"), Medium (7"), Large (7.5"), or X-Large (8")
Bead Size: 4mm & 6mm
Charm Size: 19mm x 22mm
Strong and durable
Hypoallergenic
Nickel free
Sizing:
To calculate your ideal bracelet size, measure your wrist with a measuring tape. Add a 1/2 inch to 3/4 inch for a snug fit; 1 inch for a comfort fit; or 1.25 inch for a loose fit. If you don't have a measuring tape, find something you can wrap around your wrist (ie: string or ribbon) and then measure the material with a ruler. 
Care Instructions: 
To avoid stretching the elastic, roll bracelets on and off your wrist. This will preserve the life of your bracelet. 
Visit the Bracelet Collection to view similar jewelry.