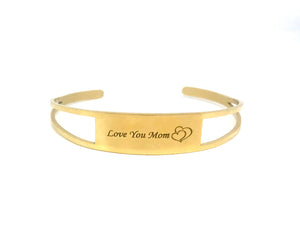 Always love your mother as you'll never get another. This stunning gift for mothers is a limited edition, once it's sold out it's gone for good!
Specifications:
- Material: Gold-Plated 304 Stainless Steel
- Length: 6.25" (16mm)
- Width: 12mm
- Thickness: 1.5mm
- Adjustable
- Strong and durable
- Waterproof
- Won't discolour your skin
- Will never rust, tarnish, corrode, or stain
- Hypoallergenic
- Nickel free
- No maintenance
Visit the Bracelet Collection for more options.