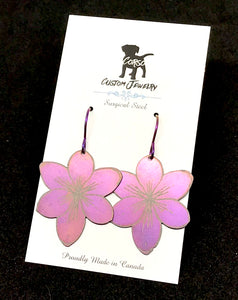 Prairie Crocus are a small, fuzzy flower native to much of North America including the prairies of Canada. They are an early-blooming flower that you'll often see blossoming as early as much during the spring. 
There's currently only one pair available and they have niobium hooks. If you would like a different material for the hook (options: silver surgical steel, gold surgical steel, or acrylic/non-metal), please leave a note at checkout or send me a message. 

Specifications:

- Hook Material: Purple Niobium
- Hook Gauge: 21 Gauge
- Earring Material: Titanium
- Full Earring Size (including 15mm hook): 48mm x 29mm
- Drop Earring Size (excluding the hook): 33mm x 29mm
- Hypoallergenic
Visit the Canadian Collection to view more jewelry inspired by Canada or the Statement Drop Earring Collection to view more unique drop earrings.