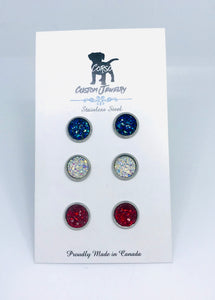 This trio features the 8mm blue and white studs for Quebec's provincial flag. The combination of all three colors (blue, white, and red) are used for major sports teams in Quebec such as the Montreal Alouettes and the Montreal Canadiens! 
Specifications:
- Material: Resin & 304 Stainless Steel
- Size: 8mm Resin Cabochon (10mm Setting)
- Strong and durable
- Waterproof
- Won't rust, tarnish, corrode, or stain
- Hypoallergenic
- Nickel and lead free
- No maintenance
Visit the 8mm Stud Collection to see more earrings this size or the Canadian Collection for more Canadian themed jewelry.