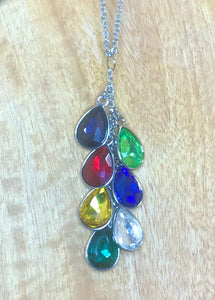 Create a colorful cascade of birthstones that represents your family! 
Specifications:
Chain Length: 18", 19.5", or 26"

Chain Material: 304 Stainless Steel
Teardrop Birthstone Size: 19mm x 12mm
Birthstone Material: Glass & Alloy
Strong and durable
Hypoallergenic
Nickel free
The charms may discolor if worn in water or exposed to chemicals (ie: hair products)
Please list the Months for your personalized Raindrop Birthstone Family Necklace in the form below and submit it. Months should be in order from top to bottom.
Example:
1 - September <<< This one will be at the top of the necklace. 
2 - May 
3 - July <<< This one will be at the bottom of the necklace. 
Visit the Family Birthstone Collection or Birthstone Necklaces for Mothers Collection for more birthstone jewelry options.