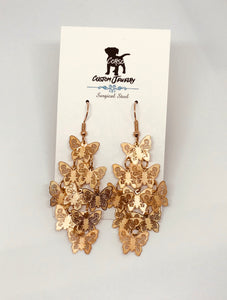 This kaleidoscope of butterflies in rose gold is breathtaking as they move freely on the earring. Available in more colors!
Specifications:

- Hook Material: Rose Gold Plated 316 Surgical Steel or Acrylic (Non-Metal)
- Hook Gauge: 21 Gauge
- Earring Material: Copper (Lead & Nickel Safe)
- Full Earring Size (including 20mm hook): approximately 70mm long
- Butterfly Kaleidoscope Size (excluding the hook): approximately 50mm long
- Hypoallergenic
Visit the Statement Drop Earring Collection to view more unique drop earrings or the Acrylic (Non-Metal) Earring Collection to see more earrings for extremely sensitive ears.