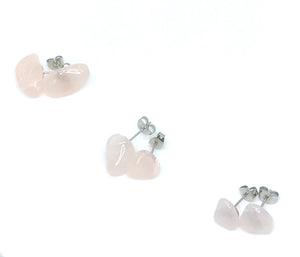 These stunning rose quartz stone studs are timeless! Rose quartz provides a gentle energy of love, warmth and compassion and helps to deal with powerful feelings.
Specifications:
- Material: Natural Rose Quartz Stone & 304 Stainless Steel
- Sizes: Small (approximately 9x10mm), Medium (approximately 10x13mm), or Large (approximately 10x17mm)
- Strong and durable
- Waterproof
- Will never rust, tarnish, corrode, or stain
- Hypoallergenic
- Nickel free
- No maintenance

Visit the Natural Stone Stud Collection to see more stone earrings.
For sizing, take a look at the Sizing Chart for Stud Earrings.