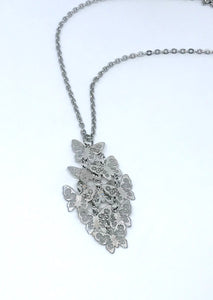 This kaleidoscope of butterflies in silver is breathtaking as they move freely on the necklace. Available in more colors!
Specifications:

- Chain Length: 18", 19.5", or 26"
- Chain Material: 304 Stainless Steel 
- Butterfly Kaleidoscope Material: Copper (Lead & Nickel Safe)
- Butterfly Kaleidoscope Size: approximately 50mm long
The matching earrings are available here: Silver Butterfly Kaleidoscope Drop Earrings! 
More butterfly kaleidoscope necklaces and other unique statement necklaces are available in the Statement Necklace Collection.