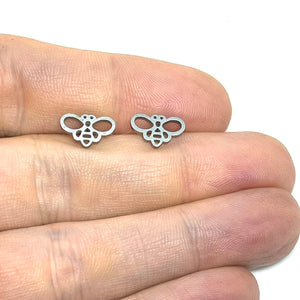 These cute honeybees add the perfect touch of sweetness to your outfit!
Specifications:
- Material: 304 Stainless Steel
- Size of the Honeybees: 10mm x 6mm
- Strong and durable
- Waterproof
- Will never rust, tarnish, corrode, or stain
- Hypoallergenic
- Nickel free
- No maintenance
Visit the Steel Stud collection to view all stainless, surgical, and titanium steel studs.
Visit the Spring Collection for similar themed jewelry.
For sizing, check out the Sizing Chart for Stud Earrings.