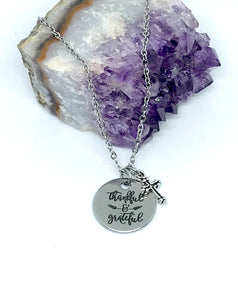 This gratitude necklace is a beautiful piece to add to your collection!
Specifications:
Chain Length: 18", 19.5", or 26"

Chain: Material: 304 Stainless Steel
Charm Size: 20mm Diameter
Charm Material: 304 Stainless Steel
Cross Charm Size: 15mm x 9mm
Cross Charm Material: Zinc-Based Alloy (Lead & Nickel free)

Strong and durable
Hypoallergenic
Nickel free
Matching earrings are available in the 10mm Stud Collection. If you'd like matching earrings in a different size visit the 6mm Stud Collection, the 8mm Stud Collection, or the 12mm Stud Collection.
Visit the Faith Collection to see similar jewelry.