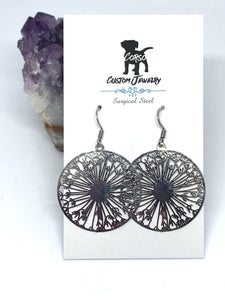 Have you ever made a wish on a dandelion? Grab a pair of these beautiful silver dandelion drop earrings to remind yourself to dream as big as your wishes.
Specifications:

- Hook Material: 316 Surgical Steel, Sterling Silver, or Acrylic (Non-Metal)
- Hook Gauge: 21 Gauge
- Earring Material: Copper (Lead and Nickel free)
- Full Earring Size (including 15mm hook): 47mm x 31mm
- Dandelion Size (excluding the hook): 32mm x 31mm
- Hypoallergenic
Visit the Silver Drop Earring Collection to view similar earrings.
Visit the Acrylic (Non-Metal) Earring Collection to see more earrings for extremely sensitive.